Best Kratom and Travel Essentials: Easily Travel with Kratom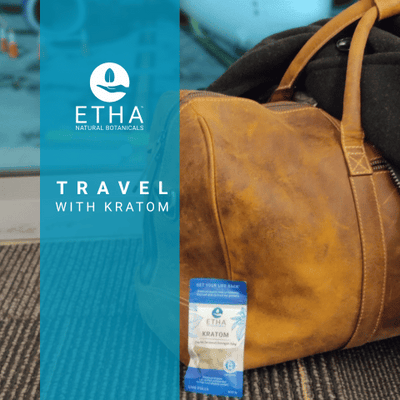 Essentials vs. Extravagances
While kratom is legal to travel with throughout the USA and most of the world, the ETHA staff has encountered delays thanks to TSA workers suspicious of our kratom. In the early days, we traveled with bottles of kratom powder and capsules and were stopped frequently. Thanks to ETHA's best kratom tablets and our travel-friendly, single-serving pouches, we breeze through security checks.
Whether this is your first trip or you're a seasoned globetrotter, it's always helpful to have a list of the travel essentials you may want to pack for your vacation. Whether you're planning a weekend vacation or a long-term adventure, it is important you've thought of everything you might want to pack. As there are just some items that are absolute must-haves. While we may be able to say "NO" to that extra pair of heels or favorite sneakers, there are other travel essentials that make your trip run smoother and you cannot leave behind. It may be that perfect "all-fitting" travel bag, or the "all-in-one" hanging toiletry organizer, but don't forget the one more essential item to add to your must haves, which is your ETHA single-serving kratom pouches.
Convenient Hassle-Free Companion
Maximizing convenience is one of the unequivocal pillars of any travel. Who hasn't looked on sadly at the poor traveler dragging some over-sized or awkwardly shaped luggage items. However, with ETHA's 2.4 gram pouches both ease and convenience are at your fingertips. The 2.4 g pouch comes in a convenient small size that can easily fit in almost any pocket. Just place it in your shirt pocket and ETHA is there to keep you company during your travel adventure. Likewise, you can place the pouch directly into your purse or carry on luggage for easy anytime access.
If you want more than 2.4 grams, ETHA has bigger sizes that are nearly equally convenient in 8 and 30 grams pouch. These larger pouches are resealable and perfect for multiple reuses. No more worrying about messy wasteful spilling, lost items, or manufacturing at-home resealing apparatuses. In other words, put down the paperclips and rubber bands and grab our resealable pouch instead as your travel must.
Lastly, the one thing every traveler hopes for is a quick and painless breeze through TSA inspection, and unlike bulky objects, bottles or liquids, our ETHA pouches will not raise eyebrows or create extra hassle with the TSA. So quickly get through and on to your destination.
Unique Blend for every Traveler's Need
Whether you are a newbie or a seasoned traveler, everyone will agree that travelling is exhausting. And can take a physical, mental and emotional toll on your body. Therefore, one should never leave home without their ETHA 2.4 grams, single-serving pouches and travel companion. We measure naturally occurring bio-active alkaloids in each of our kratom harvests and use this data, combined with our unique blend recipes, to make our ETHA Premium Blends. This is how we provide unique blends for every travel's need.
Whether you are running to catch a connection or pulling an all-nigher on a transatlantic flight, traveling is physically grueling. Likewise, it requires some serious energy and stress management. Opt for our MaengDa Blend to alleviate fatigue and support elevated energy levels† or our SunRise Blend to promote a balanced response to stress and promote vitality†.
Some of us are nervous travelers who get the jitters and butterflies when it's time to take a trip. Some, perhaps may find their stress levels shooting through the roof at the possibilities of delays or missed connections. Others, may get overwhelmed with all the planning, packing and to do lists, and need some help focusing. For these individuals we recommend our MidDay Gold and Full Spectrum Blends to support natural focus and a healthy response to stress†.
Without a doubt, no trip will be complete without some much-needed rest and relaxation. Unless you are part of the elite, most of us travel on a budget. Therefore, this means uncomfortable seats and little to no leg room. Sit back, take your shoes off, and enjoy healthy inflammation recovery† for those suitcase dragging, sore muscles, with our SunSet Premium Kratom. Or, choose NightFall and promote relaxation for peaceful rest† during those long cross country trips.
Travelling takes you to great places, but the trip is not always smooth and easy. When you travel with ETHA kratom, you can enjoy both the journey AND the destination.
---